Dana In Detail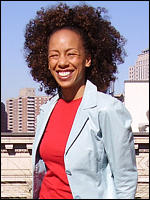 DanaRoc.com
is a multimedia Internet destination featuring
Dana Delivered!
-- an ezine filled with interesting stories and fun tidbits delivered fresh to your email inbox first thing every Monday morning. Both entertaining and informative,
Dana Delivered!
is packed full of sound advice, inspiring perspectives, great original interviews with influential and successful people, insightful and interesting guest articles, regular columnists, Dana's recommendations and more.
Dana creates every bit of content and handpicks every guest to encourage you to LIVE LIFE OUT LOUD and add richness and challenge to the way you live everyday. Dana will introduce you to people and themes that are unpredictable, pique your curiosity, provoke a response, elevate your conversation, show you how to build on your successes and invite you to live life beyond what you think is possible.
So, obtain a new advantage, get a quick boost to the soul or just minor-ly adjust your attitude.
DanaRoc.com... DELIVERS!